About Us - Jan & Andrew Eatock
We emigrated from England to New Zealand in 2002 bringing with us 3 male Cavalier King Charles Spaniels. We have since imported other Cavaliers from overseas.
Owning Cavalier King Charles Spaniels since 1995 and showing since 1997 we are registered to use the kennel name 'Darilance'. We have both judged Cavaliers as Peer Judges.
Darilance is a small kennel near Huntly in New Zealand's rural Waikato. We breed only occasionally, always aspiring to further improve our Cavaliers. We understand the importance of breeding healthy Cavaliers and have our dogs DNA and health tested.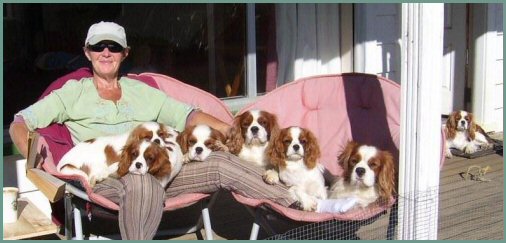 Cavaliers are an affectionate playful breed and great fun to be around. They love to run free, chase and fetch toys and have a jolly good time out in the fresh air, no matter what season wet or dry. Many of them also like to swim or paddle and will readily retrieve from the water. Being very social animals they thrive on human companionship and will settle easily to various lifestyles. They are intelligent dogs and easily trained as they are always willing to please.
Our dogs live indoors as part of our family. Cavaliers are not suited to being kept in kennels and should not be housed out of doors.